During the Los Angeles Department of Water and Power (LADWP) 2017 vendor Exhibit, themed "Transforming Connectivity," Air Sciences was presented with the Professional Services Contractor of the Year award. The event was organized by LADWP to help promote economic development, diversity in contracting, and excellence in water and power services to the agency and residents of Los Angeles. Dr. Mark Schaaf (Air Sciences), as well as supporting subcontractor team member Dr. John Dickey (PlanTierra) and Mica Heilmann (Land IQ), accepted the award on the team's behalf from Commissioner Noonan who praised Air Sciences for supporting "LADWP's goal of providing opportunities to small-, minority-, and women-owned firms by effectively including and utilizing SBE, MBE, and WBE firms as its contractors."
Air Sciences received the award for their critical role in the Owens Lake Dust Mitigation Project, a $2 billion science and construction project to control dust emissions on over 50 square miles on the playa of Owens (dry) Lake, California. Air Sciences delivered the scientific and regulatory services required for the project. Air Sciences was recognized for its longevity (Dr. Schaaf and Dr. Dickey have been on the project continuously since 1997), technical expertise, and its strong commitment to utilizing small business enterprises, including women-owned and minority businesses. 
"This has been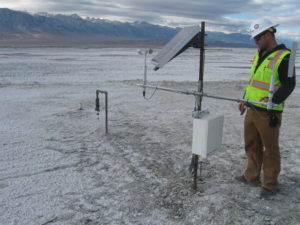 a long and challenging project that required professionals from different companies to come together and work as a team," said Dr. Mark Schaaf, Science Program Director at Air Sciences.  "LADWP has been a wonderful client to work for.  They treat us like an extension of their own staff. We are honored to receive the Professional Services Contractor of the Year award, and we are grateful to all our subcontractors who contributed to the project. We have more work ahead. The continuing drought in southern California is driving a search for new, cost-effective waterless or water-efficient methods for controlling dust on Owens Lake."
Air Sciences would like to thank each of its subcontractors for their support of the Owens Lake Dust Mitigation project, as this honor is bestowed on the entire team. Each of the companies listed below have made significant contributions, bringing their own unique skills to the project. Both Air Sciences and LADWP recognize these valuable contributions. Current subcontractors include:
Cordoba Corporation (Los Angeles)

 

Formation Environmental (Sacramento)

 

PlanTierra (Sacramento)

 

Land IQ (Sacramento)

 

Tetra Tech (Los Angeles)

 

CH2M (Los Angeles)

 

AECOM (Portland)

 

Provenience Group (Santa Ynez, CA)

 

Far Western Research Group (Davis, CA)

 

Kenney GeoScience (San Diego)

 

Ann Sihler (Portland)

 

Vestra (Redding, CA)
LADWP will award more than $3 billion in contracts over the next ten years, and they welcome vendors who are small, women, minority and disabled veteran owned businesses to contribute to the projects. The new contracts will include equipment, materials and construction management to upgrade the infrastructure to support reliable and sustainable water and power programs that meet regulatory mandates.  
 About Air Sciences 
Air Sciences is a team of scientists and engineers dedicated to finding the right solutions for our clients. We provide air quality compliance and consulting services for businesses and government agencies. We specialize in air quality services including dispersion modeling, permitting, compliance, monitoring, data management, dust mitigation and fire science.